Emerging from 60 years of isolation, Burma remains one of the most mysterious places in the world. As this ancient land takes a step into modernity, it's diverse heritage, colonial elegance and deep spiritual traditions prevail over the changes taking place today.
Straddling the line between Southeast Asia and India both geographically and culturally, Burma's astonishing natural beauty, rare ethnic diversity and rich spiritual legacy allows this country to stand out amongst its neighbors as a world apart awaiting to be discovered. As a result of its isolation and lack of modernization, many of Burma's most interesting sites still retain an air of mystery also reflected in the Burmese population and daily life activities.
Horse and cart transportation, locals dressed in traditional longuis and women decorating their faces with thanaka just as they have been doing for centuries, all add to the sense that time has stood still in Burma, even in the cities.
From the ancient temples of Bagan & Mrauk-U to the cacophony of Mandalay, northern snow-capped mountains and tranquility of Inle Lake, Burma provokes the senses with a series of defying contradictions that leave no traveler indifferent.
The former colonial capital of Myanmar, Yangon is an exciting melting-pot of culture, arts, religion and politics.
Sitting on the banks of the Irrawady river, Bagan is home to the largest concentration of Buddhist temples in the world, an impressive testament of religious devotion.
A vast, serene lake home to the Intha people, praised for their unique fishing technique. Quiet floating villages dot the lake, holding some of Myanmar's best handmade crafts workshops. Beyond Inle lie the rolling hills of Shan State, populated by the unique tribal minorities of Myanmar.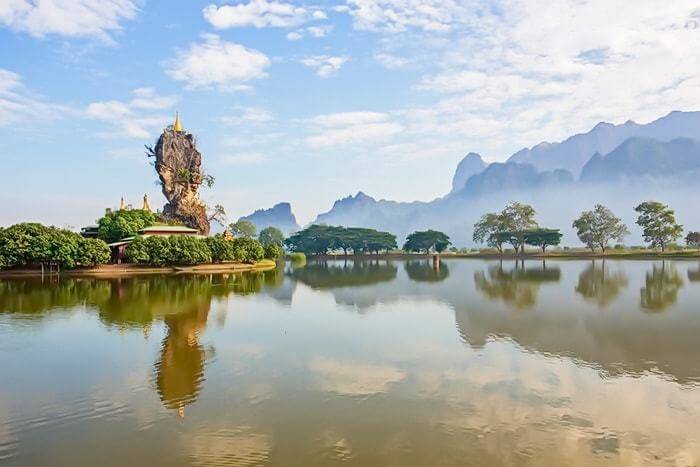 Home to the Kayin minority, Hpa An is the gateway to forgotten cave temples and the stunning Burmese countryside.
Myanmar's claim on the Himalayas was an important British outpost during WWII, now calling on hikers and river rafting enthusiasts.
While Mandalay is not one of Myanmar's most charming cities, the surroundings of Mandalay Hill and Amarapura are worthy reasons to visit the region.
Sitting on the clear waters of the Bay of Bengal, Ngapali is a sleepy resort town populated by local fishermen and rustic bungalows along its palm-fringed beaches.
Eight hundred pristine islands sparsely inhabitated by the Moken minority (sea gypsies), the Mergui Archipelago remains one of the planet's most unspoilt destinations, some of it only accessible by boat. Unravel the natural beauty of the archipelago through diving sessions, unmarked treks and leisurely sailing.
All our journeys are custom-made to each traveler's preferences and interests. Please contact us to request more information and to start planning your trip.